June 20-23, 2019
Westin La Paloma
Tucson, AZ
This four-day annual conference provides continuing education, recognition, and networking opportunities for pharmacy professionals of all practice settings.
6:30AM - 5:00PM: REGISTRATION DESK HOURS
8:00AM-12:00PM:  WORKSHOP I

(APhA) Travel Health Certificate Program | Register Here*
Conchetta Lesser, PharmD, BCACP; Kelly Fine, R.Ph.
8:00AM-11:00AM:  WORKSHOP II
Tiptoe Through the Data; Hands on Practical Statistics & Tips for Busy Practitioners | Register Here*
Jon Glover, PharmD.; Tim Hartman, PharmD, BCPS, CDE 
8:00AM-11:30AM:  WORKSHOP III
Opioid Analgesic Risk Evaluation and Mitigation Strategy (REMS)
Timothy J. Atkinson, PharmD, BCPS, CPE; Christopher Gharibo, MD
11:30AM- 12:30PM: BREAKOUT SESSIONS 1 & 2

The Future of Pharmacy:  How to Use New Technology and Advancements in Existing Technology to Grow and Succeed in the 21st Century of Healthcare
Adam Chesler, PharmD.
Clinical Controversies in the Management of Antimicrobial Stewardship Programs in Acute Care Settings
Mark Redell, PharmD; Vanthida Huang, PharmD; Kimberly Welker, PharmD.
12:30PM-1:30PM:  SPONSORED LUNCH
1:45PM-2:45PM:  BREAKOUT SESSIONS 3 & 4

Enhancing Diabetes Care Using Dietary Supplements
Beth Zerr, PharmD, BCACP, AE-C; Bernadette Cornelison, PharmD, MS, BCPS
An Immunization Update for the Arizona Pharmacist
Conchetta Lesser, PharmD, BCACP
3:00PM-4:00PM: BREAKOUT SESSIONS 5, 6, & 7

PPI Stewardship: When Less is More
Danielle Thomas, PharmD, PGY-2
Tuberculosis Control for Pharmacists: Partners in TB Elimination
Reasol Chino, PharmD, BCACP                                             
New Practitioner Track: When Being Smart is Not Enough: Developing Emotional Intelligence for Profession Success
Erin Raney, PharmD, BCPS, FCCP; Bill Bowman, PhD.
4:15PM-5:15PM: BREAKOUT SESSION 8

Empowering the Pharmacist with Telepharmacy
Jessica Adams, PharmD.                                  
4:00PM-5:30PM: BREAKOUT SESSIONS 9 & 10

Billing for Pharmacists' Services
Virginia Boomershine,PharmD, BCACP, CDE
Preceptors are from Mars, Learners are from Venus
Suzanne Larson, PharmD; Janet Cooley, PharmD.
5:30PM - 7:00PM: EXHIBIT HALL DINNER
Eat & mingle with vendors and colleagues while earning a chance to win special prizes
7:00PM - 8:30PM: RECEPTION
Hosted by Midwestern University 
8:30PM - 9:30PM: PharmPAC FUNDRAISER
Proceeds benefit the Political Action Committee.
6:30AM - 5:00PM: REGISTRATION DESK HOURS
7:30AM - 8:15AM: BREAKFAST
8:00AM- 9:30AM: GENERAL SESSION I
2019 Pharmacy Law Update
Roger Morris, RPh, JD
8:30AM-9:30AM: Student Track 1-Networking Do's and Don'ts          
9:45AM-11:15AM: GENERAL SESSION II
Legislative Town Hall
Hear from your Arizona Legislators
11:30AM – 12:30PM: BREAKOUT SESSIONS 11, 12, 13, & 14
Updates on Neutropenic Fever:  Addressing Changes in Guidelines and Practice Implementation
Ali McBride, PharmD, MS, BCOP, FAzPA, FASHP 
Using PharmAcademic to Meet ASHP Residency Accreditation Standards
Dawn Gerber, PharmD, CGP, FASCP; Brian Seigfied, PharmD Candidate 2019
Specialty Pharmacy 101
Jennifer Craig, PharmD.
New Practitioner/Student Track 2: Dynamic Communications-Enhancing Pharmacy Effectiveness through Understanding Yourself and Others Around You
Jimmy Stevens, PharmD; Juan Kingsbury
11:30AM – 2:00PM: ROUNDTABLE CE
Updates to USP <795> and <797> and USP <800> Discussion for the Compounding Pharmacist
Facilitator: Dana Reed, Pharm.D., FIACP, FACA, NFPPhC, FCP
Note: We will break for 30 min lunch in exhibit hall
12:30PM-2:00PM POSTER CONTEST
All AzPA members are invited to share a poster | REGISTER HERE 
12:30PM - 2:00PM EXHIBIT HALL LUNCH
Eat & mingle with vendors and colleagues while earning a chance to win special prizes
2:00PM-3:30PM GENERAL SESSION III

Medical Marijuana
Todd W. Vanderah, PhD
3:45PM-4:45PM: BREAKOUT SESSION 15

First, Do No Harm:  Review of Treatment Options for Parkinson's Disease Psychosis
Dawn Gerber, PharmD, CGP, FASCP
3:45PM-5:15PM: BREAKOUT SESSIONS 16 & 17
Rx for Change:  Ask, Advice, Refer - Smoking Cessation
Jing Li, PharmD, BCPS
From A to Z: Clinical Pearls for Pharmacists
Multiple speakers in rapid fire 10 minute pearl session
Student Track 3: Mock Interviews
Students must sign up: CLICK HERE
Pharmacists interested in helping interview will earn CPE: CLICK HERE
5:30PM - 6:30PM: RECEPTION
Hosted by University of Arizona
6:30PM - 7:30PM: PAST PRESIDENTS RECEPTIONS
Invitation Only
8:00PM - 10:00PM: CELEBRATION EVENT - CASINO NIGHT
Enjoy music, games & networking while supporting our Student Pharmacist Academy
6:30AM - 2:30PM: REGISTRATION DESK HOURS
7:00AM - 7:45AM: BREAKFAST
8:00AM-9:00AM:  BREAKOUT SESSIONS 18, 19, & 20
The Role of Pharmacotherapy in the Treatment of Obesity
Kerry-Ann Fuller, PharmD, BCACP; Molly Larson-Wakeman, PharmD
Treatment Options for Non-small Cell Lung Cancer
Mark Harmon, PharmD, CSP
Clinical Pearls from Genotype Guided Therapy Management
Adrijana Kekic, PharmD, BCACP
9:15AM-10:15AM:  BREAKOUT SESSIONS 21, 22, & 23
The Treatment of VTE in Cancer:  The Role of DOACs
Marti Larriva, PharmD, BCPS
Putting "Yes, And" to Work: How Using IMPROV Can Promote Communication, Enhance Listening, and Lead to Stronger Teamwork
Cory Jenks, PharmD, BCPS
Managing Adverse Events in the Specialty Pharmacy Setting
Carrie Bader, PharmD
10:30AM-11:30AM:  BREAKOUT SESSIONS 24, 25, & 26
Oncology Pain Management
Logan Cast, PharmD.
Biostatistics 101: Back to Basics
Bernadette Cornelison PharmD, MS, BCPS; Christopher Edwards, PharmD, BCPS
Breakthrough to Excellence: Applying the Science of Expertise to Pharmacy
Stephen Perona, PharmD, BCPS
11:45AM - 1:15PM: AWARDS LUNCHEON
Cheer on your colleagues as they receive special recognition
1:30PM-3:00PM: GENERAL SESSION IV
New Drug Update 2018
Robert Lipsy, PharmD, BCPS, FASHP, FAzPA
3:10PM-4:10PM: BREAKOUT SESSION 27 & 28
Bridging the Therapeutic Gap:  Statin Use in Diabetes
Kimberly Smith, PharmD; Andrea Cole, PharmD.
Adherence and Persistence with Oral Medications: Implications for Pharmacists
Carolyn Parton, PharmD, PGY-1
Full Conference
Member Prices 
Pharmacist: $350.00
Technician/Associate: $250.00
Resident: $250.00
Student: $125.00
Non-Member Prices 
Pharmacist: $400.00
Technician/Associate: $300.00
Resident: $300.00
Student: $150.00
One Day
Member Prices 
Pharmacist: $150.00
Technician/Associate: $100.00
Resident: $100.00
Student: $50.00
Non-Member Prices 
Pharmacist: $175.00
Technician: $125.00
Resident: $125.00
Student: $60.00
Continuing Education Credit
CE Hours: 17.00
CE Units: 1.700
Accreditations: "The Arizona Pharmacy Association is accredited by the Accreditation Council for Pharmacy Education as providers of continuing education."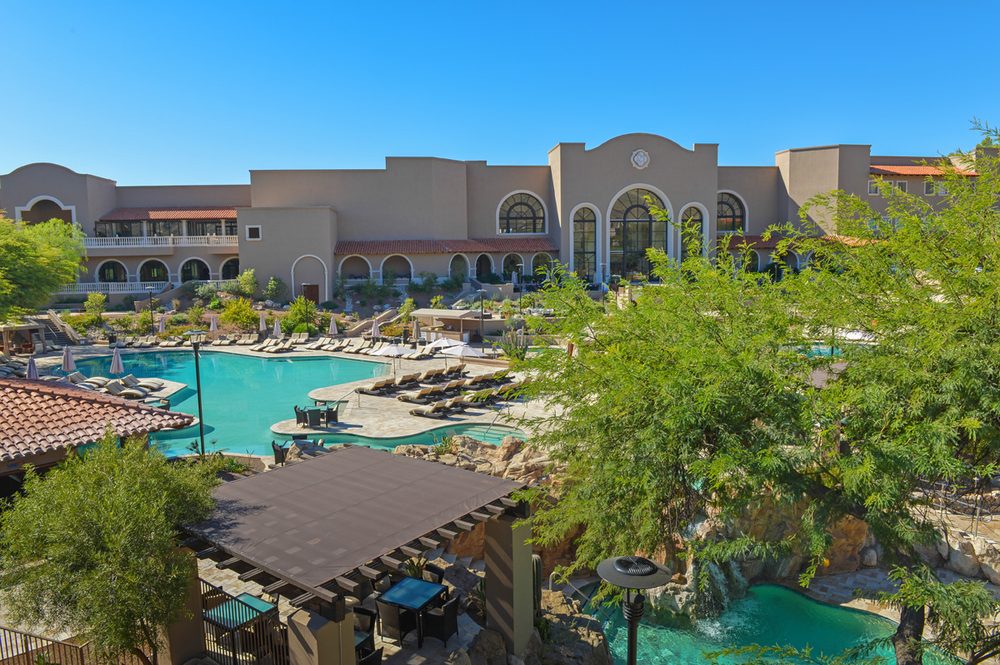 Hotel Accommodations
Westin La Paloma
3800 E Sunrise Dr | Tucson, AZ 85718
Phone: (520) 742-6000
Group Rate: $129
Please do NOT book through outside vendors such as Hotels.com etc. AzPA will not get credit for the room and in addition, the resort fees of $29 are not included in those prices. Be sure to mention The Arizona Pharmacy Association Convention to receive the special rate.
Refund Policy
Refund and/or cancellation requests must be made in writing to the Arizona Pharmacy Association office. A cancellation request must be made at least fourteen calendar days prior to the scheduled program and will require a $100.00 fee. No refunds will be issued for cancellation requests made less than fourteen calendar days prior to the scheduled program. You must submit a written request to cancel by email, fax, or standard mail and confirm that AzPA has received the request. AzPA reserves the right to cancel any activity due to insufficient pre-registration or as determined by the Executive Director or CE Administrator. In this case, all individuals pre-registered are notified and issued a full refund. Registration fees cannot be re-allocated due to the multiple steps involved with processing CE Credits. Refund checks will be mailed fourteen business days after the conclusion of the meeting, if approved. For more information about refunds and/or cancellation requests please contact the Operations Director.